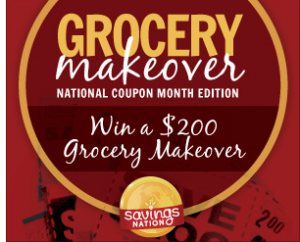 September National Coupon Month, really a whole month dedicated to coupons!  As a part of Savings Nation Ambassador program, I am part of a group of bloggers that will be holding Grocery Savings Workshops on September 24, 2012.
Read more about where to attend my grocery savings workshop and..
We're launching an exciting contest to celebrate National Coupon Month too! You can have a chance at winning a grocery makeover with one of our Savings Nation Ambassadors! Here's how you can enter:
Step One: Make a short video and submit it on the Savings Nation Facebook page sharing why you need a grocery makeover. Make it good.. there will be some voting involved. Be sure to do this by September 10, 2012.
Step Two: Voting will begin on  September 12, 2012 (side note: my son's birthday) get your family, friends, neighbors, co-workers, and everyone else you know to vote for your video. Voting ends September 20, 2012 and then ten videos with the most votes will be entered into the final round. (Please.. be someone from Oklahoma. This would be so AWESOME!)
Step Three: A panel of strategic shopping experts will chose three winners from the 10 finalists.
Prizes: Winners will receive a grocery gift card and a Coupon Makeover.
Grand Prize: $200 Grocery Gift Card and a Coupon Makeover.
2nd Prize: $150 Grocery Gift Card and Coupon Makeover.
3rd Prize $100 Grocery Gift card and Coupon Makeover.
Coupon makeovers will be done with a Savings Nation Ambassador. If winner does not live near an Ambassador, then the winner will receive a personalized virtual makeover. For more official rules. 
Other National Coupon Month Activities
September 5: Live The Grocery Savings 101 Facebook chat hosted by Savings.com DealPros, logon to Facebook.com/Savings at 6pm Pacific Time to join the fun with friends.
September 10: Join the LIVE coupon Q&A webinar to chat with a panel of DealPros, coming to you live from Valpak Headquarters in St. Petersburg, FL
September 20:  'Go Crazy with Coupons' Twitter Party: Connect with others, enter to win prizes and get exclusive deals, just by following hashtag #SavingsNation