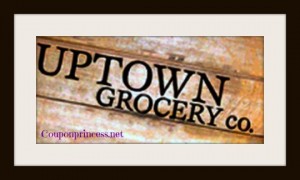 Uptown Grocery Weekly Edmond Oklahoma   now has weekly ads!  See the new ad for Uptown. This grocery store is located on Covell between Kelly and Sante Fe in Edmond. Have you shopped Uptown? It is a really nice grocery store, with really great ad prices. Some of their day to day prices are a bit high, but it does have a great atmosphere and checkout lines are never long.
Uptown Grocery is located in Edmond, Oklahoma at 1230 W. Covell Road
Uptown Grocery Edmond Oklahoma Ad Sale runs   October 2 – October
Buy 3 General Mills Cereal for $7 (select variety, Cheerios, Cinnamon Toast Crunch, Hershey's Cookies and Cream, Vanilla Chex) ($5.50 for cereal when you use below coupons, you choose your coupons!)



Get Hiland OJ FREE ($2.50 value)
Buy 3 for $6 Hershey's or Reese's Cookie Mixes, Cupcake Mix or Frostings
Get Best Choice Vegetable Oil 48 oz FREE ($1.99 value)
Buy 3 for $4 Progresso Soups (3 for $3.50 after you use below coupon)

Get Premium Saltine Crackers FREE ($1.50 value)
Buy 1 for $5.99 Old ElPaso Frozen Entree
Get Hiland Sour Cream 160z FREE ($.88 value)
Buy 3 for $6 Pillsbury Crescent Dinner Rolls 8 0z
Get Best Choice 18 count eggs FREE
Buy 4 for $5  Totinos Party Pizza (note coupon below is for 5)

$1.00 off 5 Totino's Crisp Crust Party Pizza
Get Totinos Pizza Rolls 15 ct FREE
BEST DEALS!
Oscar Mayer Meat Wieners $1.88
Boneless Pork Ribeye Chops Pork  $2.49 lb
Fresh Small Pork Spare Ribs $1.99 lb
Fresh Water Caught Alaskan Halibut Fillet $16.99
Sweet Potatoes Organic $0.59 lb
Organic Grapes $1.97 lb
Best Choice Eggs 18 ct $1.58
Hiland Dip or Sour Cream 16 oz $0.88
Hiland Cottage Cheese $1.88
Fritos $1.88
Cheetos $1.88
Hiland OJ 1 Gallon $2.50
See the full Ad for Uptown Grocery  for this week!
See Homeland Deals to compare the stores deals this week.