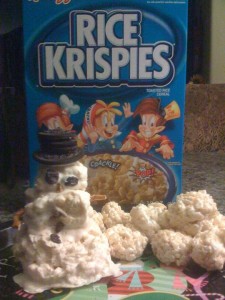 Three Words to describe Rice Krispies Treats.. Sticky, Gooey and Delicious! What is better then all of that is you have a chance to win.. $100 GC to help make your own Rice Krispies Memories! But first let me let you enter my world of Rice Krispies and my Challenge of Stickiness of making my special Snowman for this recipe challenge. Here is how I did it… or tried atleast.  Remember it was a sticky gooey situation. A little melty as well.. lol.
Rice Krispies (TM) Snowman
By Shannon Snow (hence the Snowman Idea)
Ingredients:
3 Tablespoons of Real Butter
10 oz of Marshmallows
6 Cups of Rice Krispies (TM)
1/2 Cup of Peanut Butter
1 package of Almond Bark (white)
Other items needed.. Raisins, Chocolate cookie, pretzels for Snowman
Directions:
Melt Butter and Marshmallows in Large Microwave safe bowl for about 2 to 3 minutes. Then Stir with a buttered cooking utensil. Mix in Rice Krispies (TM)
Cool in rectangle pan. Use Parchment paper if needed to press into pan to cool. When cool, cut into squares, and frost with peanut butter, put another square on top and form into circles.
While the treats cool, heat almond bark in pan until melted.
Dip round balls into almond bark. This is kind of messy, but it made the treats extra yummy, especially with the peanut butter surprises!
Make different shape balls, and then make the snowman. Add eyes, buttons, arms, and hat. I used raisins for eyes, nose and buttons, cookie for hat, and pretzels for arms. You can use your imagination. I cooled the snowman outside so it would cool faster.
With the extra treats, I made snowballs with peanut butter inside. I did not dip all of them. My sons ate the ones I had dipped before I could take a picture!
Now that I have your attention and you now want to go and make some yummy Rice Krispies (TM) for your family? Well before you go, make sure you enter to win $100 Gift Card! Yeah.. how? It is easy. One entry. That is all you have to do.
Let's share Holiday Family Traditions for your entry! (One Entry, that is it.. don't attempt to enter more then once..)
Now of course, you can "Like" me on Facebook so you can keep up with all the deals and fun we have around here, but it is not required!
Here is all the fine print..
Deadline: Ends Tuesday, Dec 21, 2010 @ 12:00 pm Central Time. You must leave your email address so I can notify you if you win. Random.org will be used to select winner. Open to US addresses only, 18 years and older. Winner will have 48 hours to response or another winner will be drawn. Sponsor will send the product to winner.
*Abbreviated Rules. No Purchase Necessary. Begins no earlier than 12:00:00 AM (ET) on 11/29/10 and ends no later than 11:59:59 PM (ET) on 12/21/10. For complete Official Rules, go to http://web.mediacdt.com/docs/motherhoodholiday
Open to legal residents of the fifty (50) United States and District of Columbia who are 18 years of age or older at time of entry. Subject to complete Official Rules. Void where prohibited. Sponsor: TheMotherhood at www.TheMotherhood.com
Disclosure: I received a stipend and Rice Krispies (TM) Cereals were provided as part of this challenge.