Pizza Swirl Casserole
(named by my 5 yo)
Pizza Noodle Casserole Recipe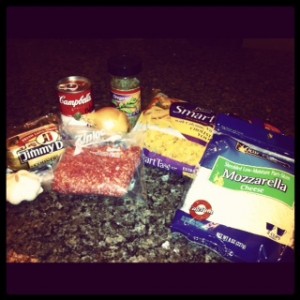 Pizza Swirl Casserole
4 Cups of Egg Noodles
1 lb ground beef
1/2 pounds of sausage
1/3 Onion chopped
2 garlic clove Pressed
1 tsp or to taste Oregano
1 Can of Condensed Tomato Soup
1 Can of water
2 cups of Mozzarella Cheese
1/2 cup of Grated Parmesan cheese
Brown Meat and sausage together with the onion and garlic in the skillet. If you have a  skillet that is oven safe, this is a great time saver and will help you to save time on clean up. Cook meat for about 10 minutes or until done. Drain.
Add Oregano.
Cook Noodles per package directions (7 minutes) Drain. You can do this while you are cooking the meat.
Add remaining ingredients, mix (Keep some of the mozzarella cheese for for the topping)
Bake in 350 degrees Oven for about 20 minutes, or until bubbly and cheese melted.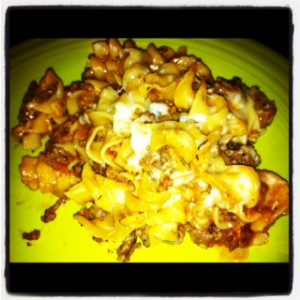 This was gobbled up by my picky 5 year old. So it was a hit. This would easily feed a family of 6 to 8. Very inexpensive and yes, I had all these ingredients at home. I would have added pepperonis if I had some!