Do you like having deals delivered to your inbox?
Sign up for my emails
for the latest info. You may also "
like" Coupon Princess
on Facebook for even more savings. Share your own deals and much more! Thanks for your support.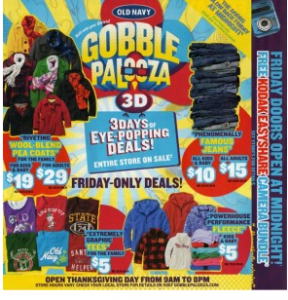 It is beginning to be that crazy time of year, Old Navy Black Friday ad is out. But wait, they start on Thanksgiving again this year. I hate that when stores begin the sales on Thursday, I like to keep Thanksgiving a time with family, football and food. Not Shopping. The best thing about these deals, most of them can be bought online and shipped free with your purchase of $50 or more. Plus, if you have any problems you can do your returns in stores. Sign up for Old Navy's Email list, do this about 1-2 days before you want to use your coupon and get $10 off $50 purchase to take with you when shopping for these great deals.

Not sure what the Kodak Easy Share Camera Bundle is about when doors open at Midnight on Friday..

THURSDAY, FRIDAY AND SATURDAY ONLY

Adult Jeans $15
Kids Jeans $10 (pretty good deal, they do this for Back to School)
Women's Henleys $8
Men's Long Sleeve Button Down Shirts $15
Men's Fleece Hoodies $15
Kids Knit Tops $8
Kids and Baby Fashion Jeans $8
Men's and Kids Performance Fleece Accessories $5
Frost Free Jackets Adults $29
Frost Free Jackets Children/Babies $20
Frost Free Vests Adults $19
Frost Free Vests Children/Babies $15

FRIDAY ONLY

All Outerwear for the Family 50% off
Sweaters for the Family $15
Women's Performance Fleece V-necks $5
Women's Cold Weather Accessories $5

SATURDAY ONLY DEALS

Jingle PJ's for the Family $8
Pj's Pants $8
Toddler Sleepwear $10
Kids Performance Fleece Hoodies $9
Adult Performance Fleece Tops $8
Collectablibitees Character T-Shirts $6

 Are you an Old Navy Credit Card Holder, you can start getting the Friday  deals as early as Wednesday, and Thursday. Shop Black Friday Deals Online If you can't get to the store.