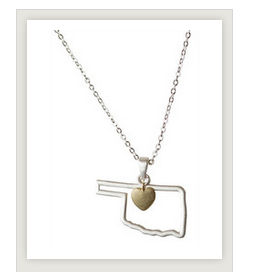 Oklahoma State Shape Necklace
Oklahoma State Shape Necklace 50% off. Price at Cents of Style is $11.95 today only and FREE Shipping! What a fun present to give. All 50 states available, too. Lucky for us Okies, our state shape is pretty cool looking. Today only. Use CODE: HOME
About the Oklahoma State shape necklace:
Color: Brushed Silver
Description: This 18″ brushed silver chain necklace features a 3″ chain extender. The Oklahoma state outline charm is 1 7/16″ X 3/4″ and includes a brushed gold heart charm.
This is a nice gift for those special friends this Holiday season. Great news is that these will all ship next week and arrive in time for Christmas.