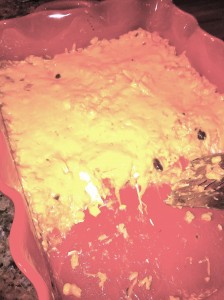 One of my families favorite things for dinner include dishes with the Mexican Flare! Here is my Mexican Casserole Recipe that I made the other night. I made this delicious dinner with my How to cook whole chicken crockpock method  chicken! Be sure to read what my boys thought about this recipe at the bottom of this post!
Mexican Casserole Recipe
Cooked Chicken Shredded ( you can season it if you would like, or use whole Chicken Breast)
1 Cup of Rice
1 Can of Cream of Chicken
1 Can of corn
I cup of Salsa, my salsa had black beans in it (more if you would like)
1 can of Black beans if you would like (optional)
1 cup of Cheddar Cheese
This is what I did, I cooked Rice per package instructions. Then I mixed Cream of Chicken, Salsa, corn and then the chicken. I put in a casserole dish, topped with cheese. I then baked for 350 degrees for 2o minutes. (or until bubbly)
Note: One of my sons, topped with jalapenos and more salsa. We served with chips. He said I should have added green peppers. Then I thought, maybe next time I should make stuffed bell peppers with this mixture. He gave the dinner a 6 out of 10.
Next Son, thought it was great as made, gave it more like an 8.
Youngest, super picky eater (5 yo) well he ate it and thought it was pretty good! Gave it no rating.