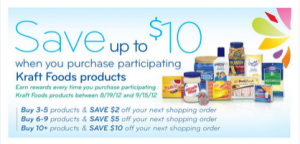 Super HOT DEAL: Even if you don't have coupons, still a great deal. Here is my suggestions. For more deals at Homeland this week <—
Buy 5 Kraft Shredded Cheeses, 2 with a touch of philly $1.67
Use: $1/2 Kraft Cheese Printable Coupon (no longer available, but you may have printed it)
Use: $0.55/2 Kraft Natural Shredded or Sliced Cheese with a Touch of Philadelphia, exp. 9/19/12 (SS 08/19/12 R)

Buy 2 Kraft Salad Dressings $1.67
Print NOW: $1.00 off when you buy any TWO (2) KRAFT Dressings 16 oz.

Buy I Kraft Shell's and Cheese $2

1 Kraft Mayo/Miracle Whip $1.99  (there are peelies if you don't have the $1 off coupon)
Use: $1/2 Miracle Whip/Mayo exp. 9/19/12 (SS 08/19/12 R)

1 Kraft Singles Cheese $1.99

Final Price w/o coupons $18.67
Okay, great. Now what.
Well you get a $10 catalina back. So basically that is $8.67 after catalina.
What to do with the catalina? Buy Meat, Produce, shop organic if you would like!
If you just use the coupon for Kraft Dressing, your total would be $16.67 before Catalina
Print NOW: This is on the list of things you can buy as well to earn catalina: I think it is priced at $3.79 so after coupon $1.79.
$1.00 off when you buy any ONE (1) package of OSCAR MAYER Deli Fresh Cold Cuts