Do you want to win a copy of Iron Man 2 on Blu-Ray DVD Combo pack. This means you get one copy for the Adults and one copy for the kids! That is what I love about the Blu-ray combo packs! If you don't have a Blu-Ray yet but plan to get one in the future you are all set.
Who is in this movie? Some great actors and actress I tell ya which include: Robert Downey Jr. , Don Cheadle, Mickey Rourke, Gwyneth Paltrow, Sam Rockwell, Scarlett Johansson, Samuel L. Jackson
Movie is rated PG-13 and is 125 minutes long.
Blu-ray Release Date is September 28, 2010. You should be able to score some good deals on release date at Target and Walmart!
Here are the details. First, this is a twitter giveaway so you need a twitter account at www.twitter.com. Accounts are free, just make up a user name and start tweeting.
Then tweet this phrase:
RT: Retweet To win a copy of Iron Man 2 from @Couponprincess  out on DVD and Blu-ray 9/28!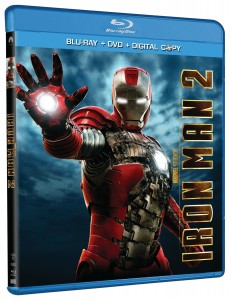 http://bit.ly/9HYwua
Giveaway Open to US and Canada only (no Quebec or Mexico), age 18 or over.
On Wed 9/22: RocketXl will choose the winners and provides winning Twitter IDs to @Couponprincess then @CouponPrincess and www.couponprincess.net will announce winners.
Disclosure: I am going to receive a Blu-Ray combo DVD in return for hosting this giveaway with RocketXL.