Do you like having deals delivered to your inbox?
Sign up for my emails
for the latest info. You may also "
like" Coupon Princess
on Facebook for even more savings. Share your own deals and much more! Thanks for your support.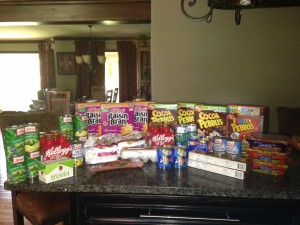 Homeland Shopping Trip
Today, I went toHomeland and did a bit of shopping. Nothing I bought today, didn't have a coupon. I was wanting to see how much I could save, and ended up saving 78%.
The Kellogg's cereal and the Kellogg's Shakes, I had rain checks for those items. Then I was able to save $.50 on the dozen eggs.
I didn't do a good job of staging, but the white bags are Simply Fries, and the small boxes on the right of the picture are the Healthy Ronzoni noodles. I also have the cinnamon rolls, and the grands rolls (hard to see in the back)
Do you want to see more deals at Homeland, be sure to checkout Homeland Weekly Deals, to see what you can get for FREE and Cheap this week. If your store is out of something, be sure to get a rain check! (when you redeem your rain check, you will save $.50 on Best Choice eggs or Ice Cream!)
Final Price: $20.84, before Coupons ands Sale price $53.00 total items 39!