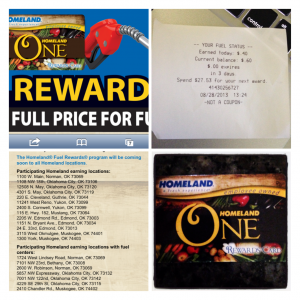 Homeland Fuel Rewards
How to use Homeland Fuel Rewards step by step:
1. Sign up for Homeland Rewards Card, you can do this in store on your next shopping trip.
2. You may be tempted to not keep the large credit card sized card, but don't throw this away. You will need it at the participating gas stations.
3. Start using it when you shop, for every $50 you spend you will save $0.05 a gallon on gas up to 20 gallons. (Sounds like not a lot, please note it does add up eventually but expires after 30 days)
3. Tip: The amount paid, is what is counted. After all coupons, sales, and etc. You will get a slip, like seen above at checkout to let you know how much to spend before next reward, and how much you will save at pump.
4. Since I love simple Math, check out my slip above. Says, I will save $0.60 at pump. This is per gallon, so I will save $12 at the gas station when I max out the savings and fill up with 20 gallons!
5. Specials, Homeland Weekly Deals sometimes will have bonus Fuel Rewards weeks, where you will save even more! This week there are 6 products you can buy and save $0.10 a gallon when you buy these products. See my Homeland Fuel Rewards deals, to see how to score some Quilted Northern!
6. Fill up after you shop and saved up some rewards, check here to see what gas stations are participating near you.
Any Questions? Lets discuss in comments or on Facebook!