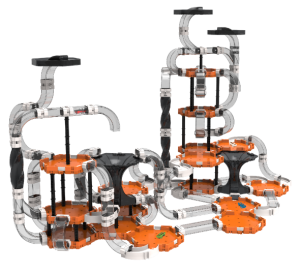 Are you HEXBUG fans? We are huge HEXBUG fans here, you know those tiny little vibrating bugs that hop around on the tracks, well now they can climb!
Now, do you want to win a prize? Do your children like to color?
 Now looking for Participants in the HEXBUG Nano V2 coloring contest:
Step 1: Choose your favorite outline here, color it, and submit it to the HEXBUG review team. The coloring contest will run from 12:00 A.M. CST on August 19 through 11:59:59 P.M. CST on September 22, 2013. Entries can be submitted via email or regular mail.
What you get with your entry:
Every entrant will receive a $5 promo code off their next purchase on www.HEXBUG.com for submitting a completed coloring page. Limit to one entry per week. To receive your $5 promotional code, simply send us an email, with your drawing attached, to [email protected]HEXBUG.com, and we will reply to your email with your code. Or, you can send us your drawing via mail to:
 Innovation First International
Attn: They Can Climb Coloring Contest
1519 Interstate 30 West
Greenville, Texas 75402.7.
 Every week we will spotlight some of the best submissions on our website www.nanov2.com, which we may also share on our social media channels. There will be two categories of winners – an "under 6 years of age" and a "7-12 years of age" category. At the end of the contest we will announce 1st, 2nd and 3rd place winners in each category, who will win the following prizes:
 • First Place – A Nano V2 Master Collection (one of every set)
 • Second Place – A $50 promo code to HEXBUG.com
 • Third Place – A $30 promo code to HEXBUG.com
 Disclosure: I was given a Nano Set to review,  All opinions are my own. Full Review Coming SOON!