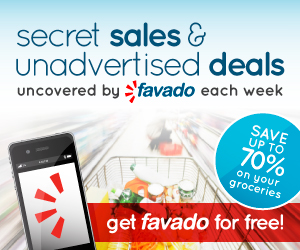 Grocery Savings App <——– click to be the first to sign up, and it is FREE!
I have been working with savings.com since 2009, and the past 18 months we have worked on developing this Grocery Savings App. This is a FREE APP to help our readers save even more money at the grocery store, with secret sales! The official launch is not until next week. So, you get to try the APP first, and let me know what you think.
Please download, and give me feedback! This is a HUGE project, and will help save you money. You will even be able to email yourself the lists, and print them out. Print coupons, and more to help your family save money.
BE the first to get This Favado Grocery Savings APP for FREE, be sure and sign up today!
What is Favado?
Favado is a mobile savings app that helps you stop overspending on items you buy everyday by notifying you when they are on sale. Favado combines YOUR local grocery stores sales ad with coupons, to find you the best deal.
How can it save you money?
By combining offers in the current sales ads, along with coupons and secret sales.