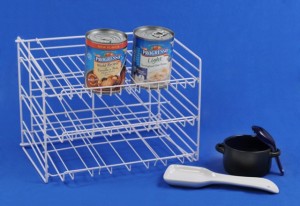 My BlogSpark sent me 2 cans of soup, organizing can rack and bowl like the ablove picture to try, and to giveaway on my blog to one of my readers! Personally, I love Progresso soup. It is easy to make, heat up in the microwave or the stove top. Progresso soup helps you watch your weight for the new year and is Weight Watcher endorsed as a part of a healthy lifestyle. Here are some of the new varieties.
Progresso Light
Progresso Reduced Sodium
Progresso High Fiber
The Can Organizer is helpful when organizing your soups in the pantry. Do you want to win a prize like the picture above? (you will receive coupons for the soup) It is easy to enter, and here is how. Giveaway ends 1/21/11.
1. Mandatory: How are you living a healthier lifestyle in 2011 and/or which Progresso Soup do you enjoy?
Optional:
1."Like" me on Facebook.
2. Subscribe to my emails.
Thanks for entering, this Giveaway is sponsored by My BlogSpark. I was given the items shown in picture, and no other compensation was received. Please leave a good email address so I can email you if you when. You will have 48 hours to get back to me before I pick another winner.