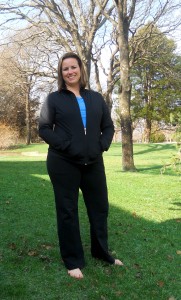 I honestly love my Jockey Sport Pants. Really love is a strong word to describe how I really love these pants, so here are my top 10 reasons why I enjoy wearing these pants so much! I have been wearing them for the last month, and I do believe this outfit is my new "uniform" below you will find my top 10, why I love my JockeySport!
Now For my TOP TEN reasons I LOVE my Jockey Sport!
10. They match almost anything, being black and all.
9. Slenderizing, smooth and stretchy material that washes very well.
8. Easy to wear around the house would be the Modern Relaxed pant.
7. The Performance Active Pant, is great to wear while doing general exercising.
6. The Relaxed Pant comes in size Short.. for me who is about 5'3″ on a good day. (also comes in long)
5. The Performance Active cropped Pant, great for my Pilate's and Zumba workout.
4. You can add the cute Black Jacket to match the pants. Much cuter then the valour sweatsuit look.
3. When I can't find anything to wear, I wear Jockey Sport Active.
2. Easy to wash, no wrinkles. No fading.
1. Makes me want to workout, be healthy and more active in my daily routine.

Be sure to checkout the video to see my Jockey Sport Active Pants I received from Jockey! It will help you decide which pants are for you.



Jockey Sport Active also has great tops as well, I chose the blue t-shirt with pockets recieved a black jacket, full zip jacket with pockets to complete my look!
Now that you want some of these pants, go check 'em out at Jockey Sport Active
Want a chance to win your own? There will be 3 winners, you will be able to pick out your pants of choice up to a $67 value!
Read Carefully on how to enter:
Please do a separate comment for each earned entry. This is important. Very important. 3 Winners.
Mandatory Entries:
1. Tell us how #Jockey Sport would make your wardrobe complete when doing your favorite exercise.
Optional Entries:
1."Like" me on Facebook. Thanks, for "liking" me!
2. Subscribe to my emails.
3. Tweet Giveaway! I want to win #JockeySport from @couponprincess http://bit.ly/gumLMQ
4. Follow Jockey on Twitter!
Winner will be chosen on March 11, 2011. Please leave me away to get into contact with you. Best format for public emails is name (@) dot (com) that way some computer guru can't grab your email.. ; ) I will chose winner by using And the winner is.. plug in on WordPress. You will have 48 hours to claim your prize.
Dislclosure: "I am a Jockey Sport Active sponsored
blogger, courtesy of Mom Spark Media.
Thoughts are my own."