Do you like having deals delivered to your inbox?
Sign up for my emails
for the latest info. You may also "
like" Coupon Princess
on Facebook for even more savings. Share your own deals and much more! Thanks for your support.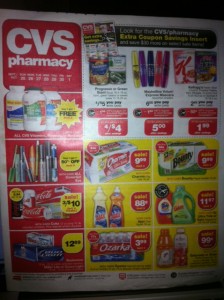 My CVS Ad, shows on the front cover that there are extra Coupon Savings in a Special CVS Extra Coupon Savings Insert. In my Sunday's Paper, there is an extra insert of coupons for CVS. Some of the coupons are mfr coupons, so you won't be able to stack the coupons with other mfr coupons. Some are your regular CVS Coupons. I will be posting some deal scenerio's in a bit, but wanted to get the visual out, so you can see what to be looking for in your paper. Now not all cities got this insert. But the Sunday Oklahoman should have insert.