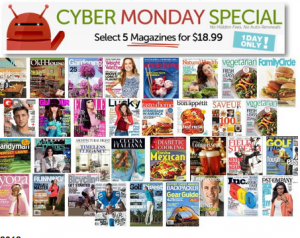 Cyber Monday Magazine Deals 2012
Fantastic Magazine Deals for Cyber Monday 2012.
Magazines make great gifts for anyone on your shopping list, today Cyber Monday Magazine Sale is the best way to get the best prices for instance below pick 5 magazines for $18.99!
Autos Category
Car and Driver
Rider
Road & Track
Car Craft
Motor Trend
Motorcyclist
Four Wheeler
Automobile
Cycle World
Sport Rider
4 Wheel & Off Road
Muscle Mustangs & Fast Fords
Business Category
Black Enterprise
Entrepreneur
Fast Company
INC
Family Category
Family Circle
FamilyFun
Parents
Working Mother
Parenting
Instructor
Scholastic Parent & Child
Parenting (School Years)
Fashion Category
Allure
Elle
Glamour
Latina
Lucky
Nylon
Teen Vogue
W
Harper's Bazaar
Marie Claire
GQ
Nylon Guys
Fitness Category
Fitness
Men's Fitness
Muscle & Fitness
Running Times
Self
Shape
Bicycling
Men's Health
Women's Health
Yoga Journal
Prevention
Food Category
Diabetic Cooking
Nutrition Health Review
Saveur
Taste of Home
Vegetarian Times
Bon Appetit
La Cucina Italiana
The Beer Connoisseur
Health Category
Natural Health
Vegetarian Times
Weight Watchers
Whole Living
Home Category
Architectural Digest
Better Homes & Gardens
Family Handyman
Log Home Living
Old House Journal
Elle Decor
Organic Gardening
Dwell
Sci & Tech Category
Discover
Electronic House
Outdoor Photographer
Wired
Popular Photography
Sound & Vision
Popular Science
Digital Photo
Sports Category
Dance Spirit
ESPN
Field & Stream
Freeskier
Golf Digest
Surfing
Snowboarder
Backpacker
Golf Tips
Slam
Surfer
No coupon codes needed!!
Purchase these subscriptions new, as gifts, or renew an existing subscription. These prices are good through tonight at midnight (est) Monday, November 26th, 2012.
Looking for more a magazine not on the list? You can use coupon code COUPONPRINCESS to save 20% off off any magazine that you find at DiscountMags off their everyday discounted price!