Do you like having deals delivered to your inbox?
Sign up for my emails
for the latest info. You may also "
like" Coupon Princess
on Facebook for even more savings. Share your own deals and much more! Thanks for your support.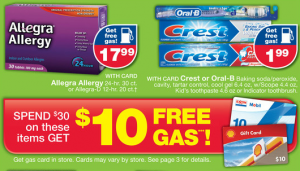 Gas Card Scenario:
Buy (2) Clorox Cleanup = $5
Buy (1) Formula 409 Spray = $2.50
Buy (2) Pine-Sol = $5
Buy Allegra $17.99
Total = $30.49
Use $4/1 Allegra from 8/7 SS or PRINT
Use $1/2 Clorox Cleanup  (previous printable)
Use (2) $1/1 Pine-Sol 
Use $.50/1 Formula 409 
Out of pocket:  $22.49, then Get a $10 Gas Card
If you have extra ECB's to use you can use those and the deal will be even cheaper out of pocket!
Thanks, Time to Save!