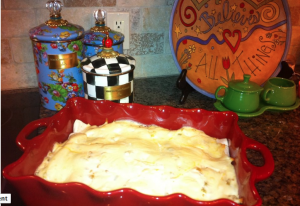 Well, last night I made a delicious Sour Cream Chicken Enchilada dish. Which is different then my usual Enchilada Dish with red sauce. This was the first time to use White Sour Cream Sauce, I made from Scratch! You probably have all the ingredients to make this at home right now.
Sour Cream Chicken Enchiladas
10 Soft Flour Tortillas or so.. you could use corn if you would chose.
Taco Seasoning
2 cups Cooked Chopped chicken (or use ready to use Fajita chicken)
2 cups Shredded Monterey Jack cheese
3 Tbsp. butter
3 Tbsp. flour
2 cups chicken broth
1 cup sour cream
1 (4 oz) can diced green chillies
First, Preheat oven to 350 degrees and prepare a Greased a 9×13 pan. Cook Chicken, I cooked mine on the stove top and seasoned with taco seasoning. You can season however you would like. I had my chicken chopped. But you could also cook chicken in crockpot all day with seasoning and shred it.
Mix chicken and 1 cup cheese, then add to tortillas, roll up and place in pan.
In a sauce pan, melt butter, stir in flour and cook 1 minute. Add broth and whisk until smooth. Heat over medium heat until thick and bubbly. This may take a few minutes, be patient. Is is worth the wait, and sauce will thicken. I didn't time it, but probably about 5 minutes. I made sure to not boil.
Stir in sour cream and chilies. Do not boil, you want sauce nice and smooth.
Pour over enchiladas and top with remaining cheese, use more cheese if desired.
Bake about 25 min for 350 degrees.
Side note be sure to check out these  Super Bowl Recipes
I linked up with Tasty Tuesdays, see more delicious recipes there!