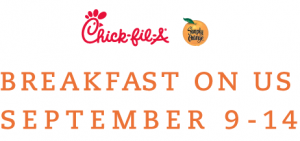 Do you love Chick- fil-A? Then get ready for some free Breakfast in  September. The dates this year will be September  9 – 14, 2013 at participating Chick-fil-A restaurants, and as a thank you they are giving away a select
Breakfast items for FREE to customers who make a reservation online.
What is your favorite breakfast item at Chick-fil-A?  Mine, is the chicken breakfast burrito, have you had this? It is so delicious. It is not on the list of freebies but is still so yummy. You can go and make reservations for Chick-fil-A free Breakfast starting on August 29, 2013.
Here are some other delicious items on the breakfast menu. Chick-fil-A Chicken Biscuit, Spicy Chicken Biscuit, Sausage Biscuit and Chick-fil-A Chick-n-Minis (three-count)
 Do you want to be the first to know about Chick-fil-A promotions? Sign up for to receive the Chick-fil-A newsletter.