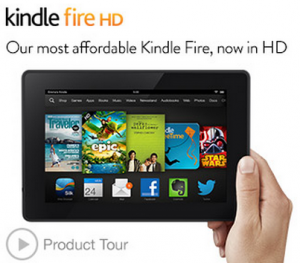 Kindle Fire HD
Kindle Fire HD 7″, HD Display, Wi-Fi, 8 GB – Includes Special Offers
, you will get a $15 gift card! This offer is good for today only! So, if Kindle Fire HD is one of those items you are purchasing for Christmas, today might be a great day to make this purchase!
Faster Performance
Kindle Fire HD is over 60% faster than the previous generation Kindle Fire—a fast dual-core processor and an Imagination PowerVR 3D graphics core ensure games and video run smoothly.
Kids Love Kindle FreeTime Unlimited
Kindle FreeTime Unlimited is the first-ever all-in-one subscription that brings together kid-friendly books, games, educational apps, movies and TV shows – all the types of content that kids and parents love. From just $2.99 per month, enjoy unlimited access to content from Disney, Nickelodeon, Sesame Street, PBS, and more.
Kindle is a great present, for someone that wants a tablet, and doesn't want to spend several hundred dollars!